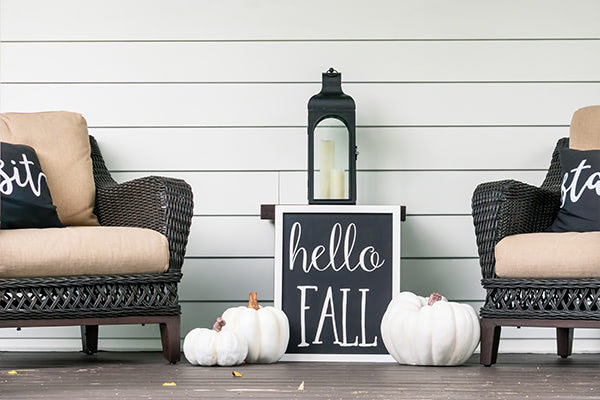 5 things you can do to prepare your home for the fall
The air feels crisp and cool, the leaves on the trees are gradually changing to the beautiful colours of fall. The days are shorter, you can feel your beach days slowly slipping away. Everywhere you go offers pumpkin-flavoured treats.
You can smell and taste fall just around the corner. 
It's always sad to say see-you-next-year to summer, but we welcome the beautiful season of fall, especially here in Canada. Before you get caught up in the pumpkin-picking-activities that come along with this season, you need to make sure you prepare your home for the colder months of fall. 
Here's how:
Check your roof thoroughly
Canada is known for its unpredictable climate. From heavy rain and blustery snow to high winds and humidity, your roof takes the brunt of the weather. While preparing your home for fall, it's important to investigate what kind of shape your roof is in before entering not only the colder months but the hurricane season as well.
Now is a great time to pull out the ladder (or hire a professional!) and check to see if your roof requires any repairs. Here's what to inspect:
Do any shingles need to be replaced?

Is there any warped flashing?

Are there any signs of mold, rot or moss?

Are your gutters are free of leaves, branches and any other debris (including potential critters!)?
You should inspect your roof early enough in the season so you can hire someone to make the repairs if needed. You really don't want to enter fall, and hurricane season for that matter, with a bunch of missing shingles and clogged gutters!
Inspect your downspouts
Speaking of hurricane season, another important aspect of preparing your home for fall is to have a look at your downspouts.
Your gutters will be fresh and clean, now you need to make sure your downspouts follow suit. Check to see where they're draining. Are they pointing away from your house or are they dumping water which will pool around your foundation?
Your downspouts should be routed to an appropriate location – downhill, preferably. However, if that's not possible, ensure they're far enough away from your house that water won't pool when there are heavy rainfalls.  
As Canadian builder and TV personality, Mike Holmes, says – "your home's no. 1 enemy is water."
The gutters and downspouts play a vital role in protecting the inside of your home from flooding. 
Taking these steps to prepare your home for fall by protecting the exterior of your house will benefit you in the long run, especially by eliminating potential insurance claims!
Fertilize your lawn
Summer takes a toll on your lawn, which is easy to believe. The season of heat, insects and the dreaded weeds. A good way to prepare your home for fall (and next summer!) is by fertilizing your grass.
Feeding your grass in the fall is imperative. Giving it the nutrients it needs (and deserves) will make it spring back to life and help it survive the long, Canadian winters. Not to mention fall's morning dew delivers the moisture the grass needs to soak in all the fertilizer.
Service your furnace 
Let's move to the interior of your home. Another key feature of preparing your home for fall is to service your furnace. 
During the colder months, the furnace is one of the most important components of your home, so it's essential to stay up-to-date on your yearly maintenance checks. This process includes inspection and cleaning, and tuning of the system so it runs at its highest efficiency.
While the other tasks you can mostly do yourself, this task is one to leave to the trained professionals. Your furnace isn't something you want to mess with unless you know what you're doing, that is!
Think of it this way. During the summer months, while your furnace isn't being utilized, it mostly sits and collects dust. If you don't have your furnace serviced prior to blasting the heat for the fall and winter months, you're pushing unnecessary dust and grime particles into your home which could lead to colds, and really isn't ideal for those with allergies.
Seal cracks and holes
Another aspect of preparing your home for fall is to seal any doors and windows. This is something you can hire a professional to do, or, you can watch a few YouTube videos and tackle this one yourself! Check out a helpful video here.
Having gaps in your windows and doors is allowing cold air to make its way in, which affects the temperature of your house, of course, but it also makes your home less energy efficient. You're most likely uncomfortable from wearing multiple layers of clothing to stay warm, and your heating system is just as uncomfortable from working in overdrive to try and heat your home.
Sealing your windows and doors is a simple solution to maintaining the temperature of your home while also being more energy-efficient, and making sure you and your family stay nice and toasty this fall!
Once you've checked everything off your list to prepare your home for fall, explore your hometown in all its beautiful fall glory, with a pumpkin spiced latte in hand of course!
When looking to refinance your mortgage this fall, give us a call at Centum Home Lenders! You can give us a call at 506-854-6847 or get in touch with us here!