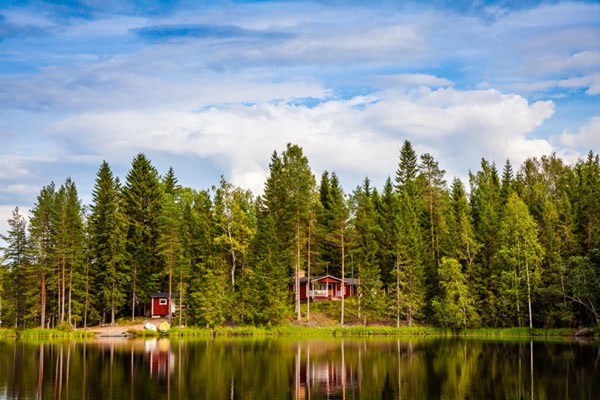 Is it time for some cottage improvements?
As we approach the summer season, cottage owners are likely getting ready to pack up and spend several relaxing weekends away. Although most people's cottages are vacation homes, and not their main place of residence, it's still important to keep them up to date. If you're a cottage owner and you're thinking it might be time for some cottage improvements, there are lots of projects you can take on. Here are a few ideas that can put you on the right track to owning the best property in cottage country!
Roofing
If you have a cottage in a rural area, it likely endured some harsh winter conditions over the past few months. When you arrive at your cottage for the first time this season, take a good look at your roof. Even if your shingles remained intact, that doesn't mean there is absolutely no damage. As our roofs age, shingles get weaker and they fade, making them more prone to damage. If it's been a long time since your roof was installed, you should make sure there are no holes or leaks in it. A roof isn't something you should ignore!
Check inside for leaks
You should venture inside the cottage and inspect it for any leaks that may have occurred in your absence. If any frozen pipes burst over the winter, or heavy rain caused foundation cracks, you might eventually be dealing with little (or big) pools of water in your cottage. It's best to perform these checks early in the season, before you start moving in and inviting guests over. If you need to add leak fixes to your cottage improvements list, you should get this task out of the way as soon as you can. This could be a small fix like tightening a loose pipe, or a bigger job like repairing foundation or replacing fixtures.
Ready to modernize?
Depending on the age of your cottage, it might look a little outdated. Many of us treat our cottages as our comfy, carefree homes, and aren't attracted to the idea of turning it into a mega-modern mansion. That's totally understandable! However, if you're getting a little tired of antique tablecloths and frilly pillows, maybe it's time to meet in the middle. You can take on cottage improvements with simple tricks like updating your decor. Replacing furniture, accessories, art, and light fixtures can turn your cottage from "grandparents' attic" to cozy, modern getaway. 
You can also go one step further and take on some renovations. This can mean replacing scratched wood or old linoleum flooring with fresh tile, removing clunky wooden cabinets in favour of a more space-savvy style, or adding a fresh coat of neutral paint throughout the cottage. There are endless ideas for modernizing the cottage, and it all depends on your personal tastes. You can always take to sites like Pinterest for extra inspiration!
Upgrade your outdoor seating
What's the point of having a cottage if you don't have a cozy spot to watch the glorious sunsets? We recommend using this season to upgrade your outdoor seating area, if it needs it. Not only does this provide you with excellent views, it also gives you another spot to relax outdoors in your own private area. You can opt for a wooden porch for a rural look, or concrete for something nice and durable. Accessorize with outdoor furniture, and you have yourself a complete outdoor oasis. Be sure to look into any regulations that might be in place around additions for your property first!
Add a driveway
The drive up to a cottage can be rocky (literally), but you can add a driveway to yours if you want to smooth out the look of your property. Parking on the grass can be damaging to your lawn, and you might want to minimize the amount of gravel and debris you run over as well. Plus, a driveway is a simple way to add a bit of charm to your cottage. You have many options in terms of materials to achieve your desired look. Asphalt driveways are the cheapest to install and are very durable, but tend to require a bit more maintenance with resealing. Concrete is another stable choice, but it is pricier to install. Finally, pavers or interlocking driveways are very expensive but have the most attractive look. These can also be especially charming in a cottage environment.
Upgrade appliances 
Finally, a practical way to take on cottage improvements is to replace the appliances indoors. We're talking about your fridge and freezer, stove, microwave, washing machine, etc. Many older appliances are clunky and pricier to operate, as opposed to newer, more efficient models. If you have an ancient gas burner, you may want to consider an upgrade to a slightly more sleek look. If you don't already have a washer and dryer, this could be a good time to consider installing one. Even at the cottage, we have laundry to do!
If you decide it's time for some cottage improvements, it's the perfect opportunity to experiment with your own tastes in style, and work within your budget to update your cottage. We hope you have an excellent start to cottage season and enjoy your summer at your home away from home!
If you have any questions about your mortgage, give us a call at Centum Home Lenders! You can reach us at 506-854-6847, or get in touch with us here.