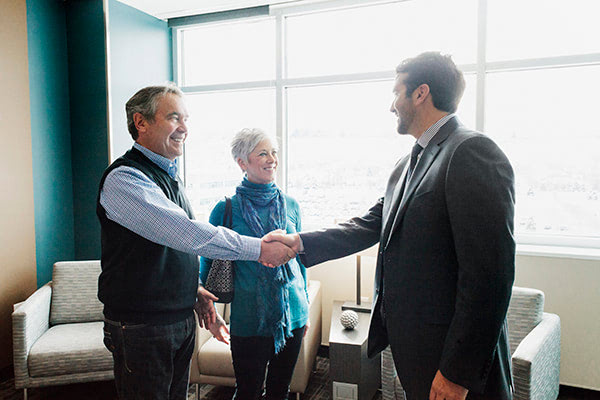 What should I look for in an unbiased mortgage broker?
An unbiased mortgage broker is a trained financial professional who helps you find the right lender to borrow money for your house.
There are so many financial institutions in Canada that would lend you money. And when there's an excess of options, you are less likely to narrow down to an ideal selection, one that would objectively benefit you the most.
That's why there are so many advantages to working with an unbiased mortgage broker, apart from just getting the best deal:
You get to save your time and money (they get paid by the lender)

The broker can get you pre-approved for a mortgage

Negotiate with the lenders in your place 

Financing solutions for your specific needs

Apply for a loan application on your behalf
So then, how do you evaluate an unbiased broker?
Get referrals
James was a software engineer who lived on a rental basis. He and his fiancé decided it was time to buy a house for added family stability. 'Instead of paying someone else to live in their house, why not pay for my own?', he asked himself. His best friend was a realtor, so in terms of finding a house, he knew that he would get a bargain.
But he was worried about the mortgage. How would he trust a financial institution to guide him? How was he to know that the lenders would have their best interest for him? After all, a house was his biggest purchase ever.
But his realtor friend proposed a solution. He said that he knew a mortgage broker who he had worked with on several occasions. He reassured James that the broker's work ethic was the best and that he had a very good network with the lenders. James agreed. He was convinced when his friend started speaking very highly of the broker.
Today, James owns a 3 bedroom home with a basement to rent out for extra income.
Similar to James, many people worry about who they can trust for financial help. But when your friend, family member, or neighbor refers to someone, it's easier to trust their sources than your very own. After all, you have living proof of how comfortable they are paying off their houses.
Digital Presence
Getting a referral is one thing. It can be a start. But not everyone has that access. Many times, you have to do your own research. So then, how do you get leads on finding an unbiased mortgage broker?
Ever heard the phrase 'Google is your best friend'?
Search your options on the internet. When you get a lead, you may literally want to stalk their brokerage. Check out their brokerage firm online. Their digital presence is a way of seeing how active and up-to-date they are in the industry. A good artist never stops displaying his paintings. Likewise, a professional broker wants to educate his existing and potential clients. Just as it helps you, this is also a way for the broker to exhibit his knowledge with fresh, quality content.
Website – a broker's resumé
A website is an undisputed way to judge the aptitude of a broker before meeting him. A website is a broker's marketing resumé – a desirable, detailed CV as to why you would want to work with them. More often than not, a broker would mention how he can solve your problem or situation on their website with content or testimonials. There should also be a way you can reach out for more information. A website should also have a contact us option or email information where you can evaluate the response time.
The first appointment
There's nothing more relieving than meeting your broker in person. This way, you can judge their character and professionalism firsthand. That's where you choose to build your trust in the broker or not.
Ask them questions. Observe how comfortable your broker is when you ask your most difficult questions. Ask if there is any fee involved. Whether there is a pre-approval. Ask about the lenders they have access to. You should even ask them how long they have been in the business. Nothing is off-limits when picking an unbiased mortgage professional.
Evaluate your broker's responses and treatment towards your list of questions. This will give you an understanding of how the process of working with them would be. A broker who deals with multiple clients would even take the time out to explain mortgage jargons to make your understanding easy.
These small and important details would be very helpful in putting your confidence in a mortgage broker.  Getting the right lender is not a short process. If your broker is friendly, patient, and has an open and welcoming personality, it will help in the long run.
Their response time 
A professional broker is not just dealing with you. They are sorting the process out for multiple clients.
A good way to gauge the level of priority is by checking his response rate. An unbiased mortgage broker always follows up regularly. That's exactly what you need. You need a broker who is an expert and well- informed, but also not too busy that they cannot give you your due attention.
When looking for an unbiased mortgage professional, give us a call at Centum Home Lenders! You can give us a call at 506-854-6847 or get in touch with us here!