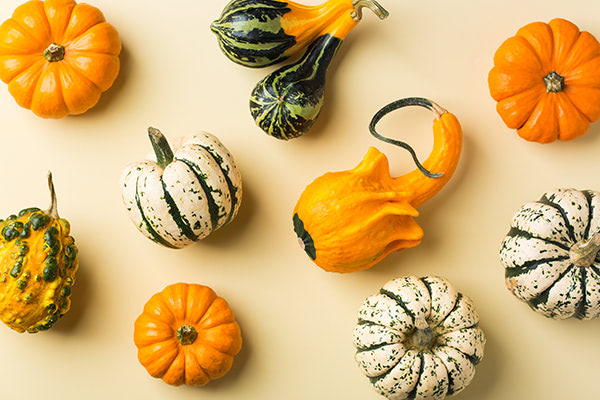 5 tips to decorate your home for the fall
It's time to decorate your home for the fall!
Fall is such a magnificent season. The gorgeous shades of red, orange and yellow, the cool, brisk air, pumpkin-flavoured everything, and the endless fall activities to partake in.
One of the best ways to welcome fall into your home is to fill it with beautiful fall-themed décor.
Here are five seasonal décor ideas to spruce your home up this fall!
Illuminate your mantle
Fall brings cool air, a bit of dampness and the desire to be cozy at all times. 'Tis the season you will start using your fireplace after letting it rest during the summer months.
Whether your fireplace mantle is actually functional or just a design element for your home, your fireplace is a haven for multiple accessories.
Arrange vases to cozy up the look. Fill them with the colours of fall through acorns, leaves, branches, mini pumpkins and gourds. You could even take old plaid scarves or sweaters, cut them up and tie them around each vase to elevate the look.
Just as a Christmas tree looks incomplete without presents underneath it, your fireplace will look incomplete without some sort of arrangement at the base. Use wicker baskets and fill them with birch logs and pumpkins of different sizes for a finishing touch.
Bring in the cozy blankets
Using blankets in fall can magnify the essence of the season in a spectacular way. You would be surprised how a gorgeous yellow-toned blanket draped over your sofa can decorate your home for fall, and be there for you when you want to cozy up.
There are so many fall-themed blankets to incorporate into your fall décor. Make sure the colors you choose augment the visual décor. Play around with shades of yellow, orange, gold and red!
Leaning a stylish blanket ladder against the wall in your living space to drape your blankets over is a good way to keep your blankets easily accessible, but also out of the way.
Another option for a decorative and functional place to store your blankets during the colder months is by adding a blanket basket next to your sofa, creating the perfect finish.
Elevate your front step
There's nothing that says 'Home Sweet Home' like being greeted by a fall décor display on your front step. Arrange different shapes and sizes of pumpkins and vibrant mums on the steps and/or beside your front door. You can also add a fall-inspired welcome sign to really amplify the look.
Incorporating a fall-themed welcome mat to your front step adds a sense of joy throughout the fall season. Plus, it gives your guests something to comment on when they come over!
To finish off your front step, place a fall-themed wreath on your front door! Inspired to make your own fall wreath? Watch this video!
Spice your table up
Another way to decorate your home for fall is to create fall-themed centerpieces throughout your home.
Adorn your dining room table with unbe-leaf-able fall décor. Place a fall-coloured table runner on your table, and add a nice tall vase in the middle with fall florals, greenery, pampas grass and branches. Arrange gourds and mini pumpkins along the table runner and finish it off with some candles.
You can elevate any surface of your home for the fall season. Add a vase on your kitchen counter and fill it with fall pieces, place a couple of mini pumpkins beside it, and you have yourself an adorable fall display! Add this to any room of your home you feel needs a little touch of fall warmth.
Candles for a cozy ambiance
Don't rely on just visual adornment this fall, candles can do more than just decorate your home! Apart from adding a style and glow, they evoke a soothing environment and fill your home with your favourite fall-flavoured scents. Be it pumpkin-scented candles that make you feel like you're frolicking through a pumpkin patch, or cinnamon, clove and vanilla-scented ones that make your home smell like magic.
Select the right collection for the tone you want to set for your home. For Thanksgiving, candles serve as a display on the tabletop, while for Halloween they add a spooky feel.
Pick the look you want for this fall and make a statement! With these fall home décor ideas, you will be the envy of all your guests this season.
When considering buying a home and need some help with your mortgage, give us a call at Centum Home Lenders! You can give us a call at 506-854-6847 or get in touch with us here!