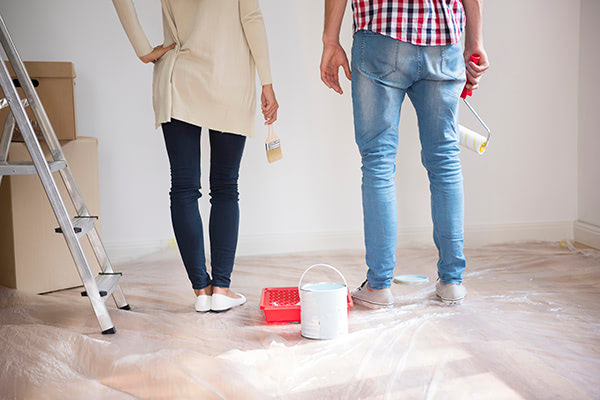 It's a great time to think about purchase plus improvements!
Is it time to talk about purchase plus improvements mortgages?
Fall has dawned. And just as the season sets the sun sooner, it also raises the price of houses. For those who are looking to buy a house this fall – the rates do not seem to be deflating, especially if you're in Atlantic Canada.
People are literally buying houses their first day on the market in this region, even within the first hour. Right now, expect to be in the middle of a bidding war, and needless to say, it's been intense for all parties involved. Realtors in this region are seeing significantly less inventory and increased demand.
So, how in the world do you buy a house right now?
Keep your chins up – there is one solution you are going to love!  
Introducing: the purchase plus improvements program
A lot of Canadians, especially in the Atlantic region, aren't getting the house they want. If they do find one, the price doesn't fit within their budget.
Because of this, they end up buying a property that isn't in the best condition or isn't exactly what they're looking for. 
Don't panic! Listen to this. When you see a house like that, you will also notice the price is comparatively lower. These houses are going to be undervalued, and guess what? You can take advantage of that.
The purchase plus improvements program allows you to remodel the house to your liking, all within your budget. Making some good cosmetic upgrades is going to be the best decision in the long run. Your house is your sanctuary from your work and social life. Making those changes is making your haven as habitable as possible.
How does it work?
It really isn't complicated. With the purchase plus improvements program, you can accomplish your renovations without even breaking a sweat. 
Let's break down the process.
Get an estimate
Once you find the house you want to buy and improve, the first thing you need to do is give an estimate of the cost of improvements to your lender and they need to sign off on it.
Pay upfront
On top of your mortgage, the lender will also pay for the cost of the improvements, but here's the catch: you have to pay for the improvements up front, either by credit card, cash or line of credit. 
Complete improvements
The lender will give you a stipulated time of 90 to 180 days to complete the improvements after you move in. We recommend finding yourself a reliable construction team who can complete the improvements on time.
Connect with an appraiser
After you're done the improvements, an appraiser will stop by your house and confirm with the lender that the improvements were finished. 
Money in your pocket
This is when the funds (the total amount of the initial estimate) that were withheld by the lawyer would be released to you.
You should also know that the purchase plus improvements program will accommodate a renovation amount of 10% of the purchase price or a maximum of 40k.
Still not convinced? Here are some reasons why the purchase plus improvements program would fix (no pun intended) your situation:
Your property value increases
Real estate is always a fascinating investment. When you buy a house, your lender is loaning you most of the money. The money you owe is at the rate of when you purchased the house. When you renovate it, the value of your house appreciates. The best news is that your lender doesn't take a dig at the added value. You get to own an appraised value of the property. Your house will double its value faster this way.
Your house can look more spacious
House designers are like wizards. When you first purchase your property, your house might look a bit cramped and narrow. With the help of a designer, your rooms could look bigger, wider and establish a buoyant ambience. With a few tweaks here and a few tweaks there, your house can look roomier than it actually is! 
Lower utility bill
A well-insulated house can conserve a lot of energy. While remodelling, it's most likely that your walls would be torn down. This is the best time to check if the electrical components and plugs in your house need to be replaced. You certainly do not want to deal with this after you've made the improvements. Changing your plumbing and fixtures will not just spruce up your home, when all is said and done, you will inevitably cut costs because of it.
Tech your house up
Be it with regular appliances like your refrigerator or the much-needed home security systems, it's best to change or upgrade to newer models before you move in. Make your living more advanced and smarter! Your house will not only emit a contemporary feel, but you get to live with greater ease and comfort.
'If you haven't found the perfect house, fix one to perfection.'
Even though the prices of houses are increasing and inventory decreases, there are still options for you. The purchase plus improvements program allows you to follow your dream of becoming a homeowner, all while staying within your budget. Don't give up just yet!
When looking for more information about purchase plus improvements mortgages, give us a call at Centum Home Lenders! You can give us a call at 506-854-6847 or get in touch with us here!