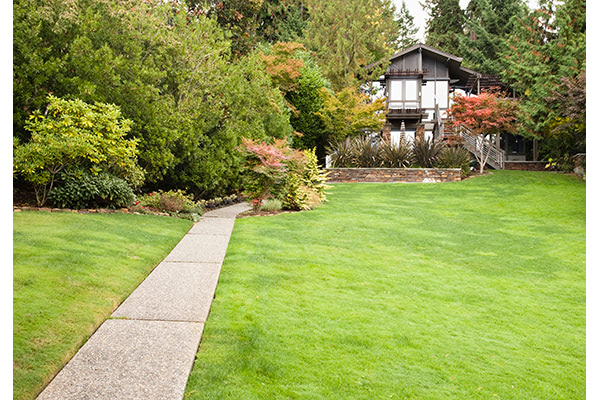 Set up your yard for summer with these 5 tips
With just a few weeks to go until summer hits, we're all looking forward to getting outside and hopefully enjoying some sunshine. If you own a home with a lawn that means it's also time to set up your yard for the season! You might think you have everything complete and ready to go, but don't be fooled. Between gardening, lawn care, and any outdoor sitting areas, summer yard maintenance is a season-long task. Here are a few simple reminders and tips to help you ensure you've got all your bases covered!
1. Finish your gardening
For the most part, you're likely done with all your spring gardening. You've probably bought and planted your flowers, mulched your yard, and reseeded any areas in need. However, you can still set up your yard some last-minute additions! You can add hanging planters or standing pots to your yard to add some bursts of colour to areas on and surrounding your deck. This gives your yard a vibrant feel from top to bottom. Be sure to get plants that thrive in your area and weather conditions. Different regions have different summer temperatures and precipitation patterns, and you don't want flowers that will fry in the sun or shrivel in the shade. 
You should also be sure to maintain your gardens throughout the summer. Many plants and flowers don't require tons of water, so it's important to know how much you need. It's a good idea to add some fresh mulch to your garden in the middle of the summer to promote health and growth as well. 
2. Focus on lawn care
If you have a grassy property, you know it requires constant upkeep throughout the year. You may have already set up your yard with fertilizer to keep your lawn healthy and your grass lush. You should also fertilize in the late summer and fall. This will encourage continued growth and protection during all seasons. 
Be sure to mow your lawn at least once a week, and check to see if your mower blades need to be sharpened or replaced. Grass also needs frequent watering, much more than most plants or flowers. If it doesn't rain a ton in your area, you might want to get a sprinkler system to keep your grass healthy. Set it up so your lawn gets an even watering all around, and if possible, water in the early morning. Watering before the sun is at its peak ensures the grass actually absorbs the water and it doesn't evaporate in the heat. You can read more about extra lawn and garden care here.
3. Arrange your deck or patio
Do you have a deck or patio? Time to set it up! This can be one of the more fun ways to set up your yard for summer. A lot of people get a thrill out of decorating their outdoor areas and lighting their barbecue for the first time. Even if your patio tables and chairs are already out, you should still inspect them to make sure they're ready for the season. Do your chairs show any signs of weakening or ripping? Is the paint on your table chipping off at all? It might be time for a paint touch up, or some replacement furniture. If you have any outdoor furniture that can't get wet, like couches or cushions, be sure you know where the covers are!
It's super important to give your barbecue a good inspection too, if you own one. Depending on whether you have a gas or charcoal grill, different problems might present themselves after a winter of non-use. If you notice uneven heating, problems lighting, or excess grease build-up, don't ignore it. Take it in for a repair, if you can't fix the issue yourself, or replace it if it's on its last legs.
4. Consider a vegetable garden
Growing your own vegetables has become quite a popular trend in recent years. Many people enjoy tending to these plants and eating their own vegetables, without needing to buy imported products from the grocery store. If this interests you, summer is the perfect season to set up your yard to grow foods like tomatoes, corn, or carrots. These are warm-season vegetables, meaning they thrive and grow best in the summer months. Other vegetables like potatoes are cold-season, so they actually grow better in cool soil. 
After planting your warm-season veggies, keep a close watch out for weeds and pests. Pull out any invading weeds immediately, water your plants often, and pick them as soon as they're ready. Otherwise, you might find yourself sharing your vegetables with wildlife!
5. Put up a fence
Finally, if you're looking for some extra privacy in your yard, you can consider putting up a fence. Homes built closely together can mean a direct view into your neighbour's yard, but a fence can help give yourself some space. Wood, wrought iron, and chain link fences are all popular types. You can even grow vines around your fencing for extra privacy and beauty. Fences are especially handy if you have a dog, so you can give them space to play without worrying about them escaping. 
If you have a pool, or are considering putting one in, you might actually require a fence by law. Many regions have mandatory fencing regulations for residential pools for safety reasons. Be sure to check out your specific region's rules around this!
Summer is the best outdoor season, and it also requires the most outdoor work. However, regular and smart maintenance takes a lot of the stress away from lawn care!
Do you have any questions about buying a home or refinancing this summer? Reach out to us! Give us a call at Centum Home Lenders at 506-854-6847, or get in touch with us here.