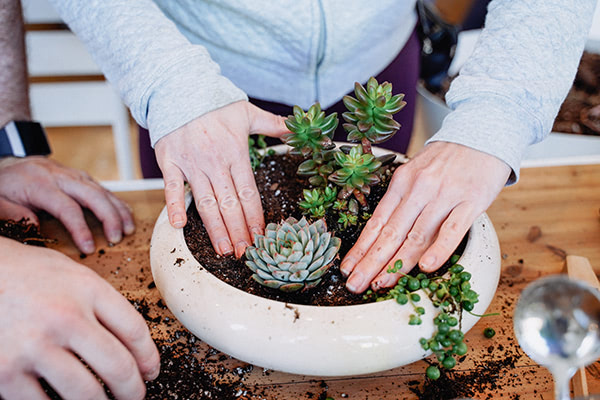 It's almost time to put your green thumb to use!
Spring is just around the corner. After what felt like a long winter, we're finally seeing the light at the end of the tunnel. If you're looking forward to sunshine and warmer and longer days, you're certainly not the only one. Before you can enjoy your yard to the fullest this summer, you need to put your green thumb to use this spring.
Gardening isn't everyone's favourite activity. It's a lot of hard work, and by the end you're usually feeling sweaty and exhausted. But it's worth it when you get to enjoy the results of your work in your lovely garden! Plus, there are ways to avoid these less pleasant parts of gardening. It's time to get your gloves on, and use these tips to make the process feel like a breeze.
Use variation in plants and trees
You might have your own favourite types of flowers and plants that you'd prefer to put in your garden. By all means, go ahead, but you should also make sure your garden has some variety! Different plants add unique scents, colours, and textures to create a fun mix. Add in some greenery like shrubs and hedges to give your garden a lush, healthy look to go with your flowers.
If you have a full-sized lawn, you can also consider planting some trees to break up the ground-level plants. True, you won't be able to enjoy these trees in their full-grown state for many years, but they're handy for providing privacy and shade to your lawn and home. The right combination of flowers, greenery, and trees will make your garden look beautiful, without looking like an overgrown forest.
Low maintenance plants
How much time do you want to spend looking after your garden? For most of us, the answer is as little as possible. We'd all love to have a flourishing garden that doesn't require excessive maintenance – or could survive even if we forget to water it. Good news: there are a ton of hardy plants and flowers out there that would be a wonderful part of your collection.
Some plants, as pretty as they might be, are just too much work. Roses are infamously dramatic, wilting and dying for seemingly no reason. Magnolias often need to be covered overnight, when temperatures go down. If you want to avoid a garden that requires constant pruning, rearranging, covering, and fertilizing, avoid these high maintenance plants. You'd do well with flowers like daffodils, sunflowers, marigolds, and geraniums, though! These are very hard to kill and can thrive in a variety of environments. No matter how inexperienced you might be, these plants will make it look like you have a super green thumb.
Environmental benefits
Having a green thumb is useful for the environment too! For your own benefit, having big trees add shade that will keep your house cooler during hot months. Since your A/C won't have to work as hard to keep things cool if trees are naturally doing a lot of the work, you might find your power bills are staying down. Choosing hardy plants that don't need a ton of watering can help you conserve water, too. This also keeps your bills down, and the environment will thank you for preserving its resources.
A nice garden attracts animals like toads, frogs, and bees as well. Before you start to cringe, these are all great to have in your yard! Toads and frogs keep the pest population down by feeding on those insects most likely to ruin your garden. Bees, of course, flourish from your sweet flowers. These little pollinators are responsible for the health of your beautiful plants, supporting your garden's growth and the entire ecosystem. They also never sting without reason, so just let them bee (excuse the pun)!
Do some landscaping! 
Are you thinking of adding on to your gorgeous new garden? There are tons of ways to accessorize your green space to make your lawn look even more impressive. Put pot plants in colourful holders for an extra vibrant atmosphere. You can add garden stepping stones for a tidy effect, or even a small pond if you're feeling adventurous and have the space. Designing your own garden can also be a fun spring project if you're starting from scratch. This takes time and it's a big undertaking, but it's worth it if you're committed!
Take good care
Some gardens are easier to take care of than others. No matter what, though, every garden needs at least a little bit of maintenance. You can make this process easy on yourself by getting ahead of any potential threats. For example, see what kind of mulch will work best for your new plants. Mulch is a miracle worker against weeds, which will become your garden's biggest enemy. Using the right amount of water also protects against weeds. You might think the more water, the better, but this isn't the case. If you can water early in the morning and give the ground time to absorb it, that's your best bet. Using too much water means your garden won't absorb it as well, leaving it to sit and invite weeds to thrive.
If you're really not feeling the love for looking after your garden and lawn, you can consider hiring a landscaping company to do some routine maintenance. That will take all the work off your hands, and you can rely on having one of the best-looking yards in your neighbourhood.
When it comes to gardening, your green thumb knows no bounds. Keeping a beautiful garden tidy increases your home's curb appeal, and provides use to the environment too. If you're looking to buy a home (and garden) this year, reach out today! Give us a call at Centum Home Lenders at 506-854-6847, or get in touch with us here.