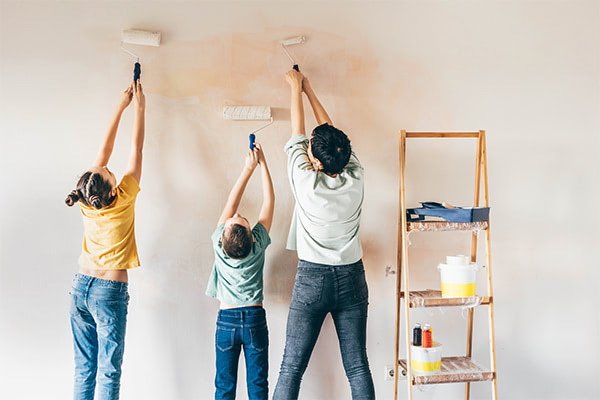 Renovation ideas with the best bang for your buck
Are you thinking about tackling some home renovations this winter? Whether you plan to sell, or you simply want to enjoy the renovations for yourself, there are plenty of projects out there you can take on, some that will even increase your home's value. Some projects will be more rewarding, more costly, and more time-consuming than others, so it's important to determine what you're prepared to take on before diving in head first. 
Here are some renovation ideas to keep in mind, and some errors to steer clear of during the process.
Small kitchen remodel
A kitchen is universally known as the central point in any home. This is where families and friends gather to cook, eat, and socialize. As a common space, it should get plenty of attention, which is why it's one of the top renovation ideas. If you're trying to renovate to appeal to buyers, a small kitchen redesign is a great project. We say a small remodel because you don't need to overspend to make a big impact. For example, replacing overhead lights and countertops might be enough to add a fresh, modern feel to your kitchen. Maybe painting your cabinets will make a big difference. Basically, choosing only the essential upgrades will be more cost efficient for you, while still making the impression you need to increase your home's value. 
Smart technology
As more emphasis is placed on the importance of green energy and eco-friendliness, bringing this technology into your home is beneficial to you and the environment. These upgrades will save you money and increase your home's value if you eventually choose to sell. Smart technology in your home can include anything from lighting and thermostats, to door locks and windows. You can set lights and thermostats to operate on a schedule when you know you'll need more or less light or heat, such as at night, to save money on energy bills. Smart windows can automatically sense temperatures inside and out, and either dim or brighten themselves to let in more or less light. Smart, green energy renovation ideas can be costly to install, but they will save you money in energy bills, and increase the value of your property. 
Door replacement
Don't neglect curb appeal when trying to increase your home's value. Front doors and garage doors are front and center, and they're impossible to miss. If potential buyers see your home from the outside and you have old rickety doors with peeling paint, it's not going to set a good first impression. Buyers will wonder what else is out of date, and they might not even want to tour the home. Thankfully, it doesn't take much to spruce up your doors. You can replace your doors with new ones, repaint them, or install windows, all of which will freshen them up nicely. 
Roof replacement
Along with your doors, your roof is another huge attention grabber from outside. Do you have missing or warped shingles, or sun-faded roofing? Yikes. Not only does an old, sagging roof leave a bad impression, it can also be a safety concern if you have problems like rot. By replacing your roof, you're promising buyers they won't have to worry about a big job like this for years to come, which, for many, is a selling feature. Most buyers want to avoid moving into a home that requires a ton of work if they intend to live in it right away. 
New flooring
Hardwood and laminate flooring are much more popular than carpet, making them one of the most valuable renovation ideas. They're durable and are nowhere near as much of a hassle to clean compared to carpet. They look sharp and seamless, and are easy to match with the rest of your home's decor. Plus, they will increase the value of your home. 
And some things to avoid…
Hiring the cheapest contractors
Don't automatically hire the least expensive contractors for the job. Not all professionals are equal, and you don't want to do a cheap job on an important project. Research, talk to others, ask questions, and look at reviews. Put in a bit of extra time now to avoid the headache of dealing with the results of improper work later. 
Super trendy renovations
Trends are always coming and going. If your goal is to increase your home's value, focus on timeless renovations rather than trying to keep up with the hottest trends you see on social media. If you do an entire renovation based on a here-and-now trend, by the time you sell, you likely won't recoup that value because it's not a high demand style anymore. Try to stick with more timeless ideas, like hardwood floors, customizable neutrals, and high quality products.
Neglecting your permits
A good contractor often handles permits for you, but make sure that's all taken care of before you get to work. If your projects require permits and you don't get them, this could result in the project being halted or destroyed completely. Often, purely aesthetic renovations don't require permits, but any changes to the structure of the home itself will, such as knocking down walls. Plus, if you try to sell your home later and it's discovered you did renovations without a permit, your home's value will be impacted. 
The best renovation ideas will depend on many factors including the age, size, and style of your home. It also depends on whether you plan to stay in your home or sell, which might influence which areas of the home you want to target. In any case, these renovations will all add value to your property, making them worthwhile investments!
If you have questions about buying a home, reach out today! Give us a call at Centum Home Lenders at 506-854-6847, or get in touch with us here.