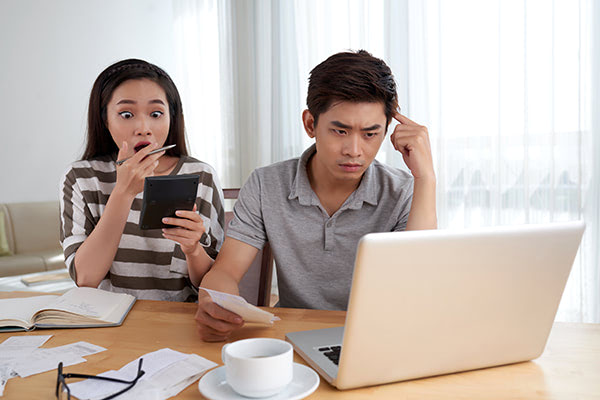 Do you know what income is required for a mortgage?
Do you find yourself overwhelmed when looking at the cost of housing? Or have you spent numerous hours on those mortgage calculator websites and left more confused than before? If so, you'll find this information useful. Here, we talk more about what income is required for a mortgage.
Unless you're a person with deep pockets, you're probably going to buy a house with the help of a lender to finance the deal. 
We all crave to live in that dream house. But you can't seek a lender and simply state that you can afford the monthly mortgage. Unfortunately, it's not that easy! You need to back it up with documents. With proof. And like all home buyers, you have to go through a stress test. This will help the lender determine how much money to trust you with.  
So, this brings us to the real question.
What income is required for a mortgage?
There are so many important components that decide whether you can own a property. The most pivotal factor, of course, is your income. Do you have the income required for a mortgage?
It's impossible to throw general digits out there because not everyone falls in the same bracket of income. But, if you want a rough number, the mortgage you qualify for is usually 4 to 4.5 times the amount of your gross income. Having said that, this number greatly reduces when you have existing debt.
As a borrower, you need to prove that you have sufficient funds and the income required to pay the mortgage along with that debt if any.
How do I know if I qualify for a mortgage?
Your lender is going to ask for two years worth of paystubs and/or proof of salary when applying for a mortgage. Prior to going through this process, you should try to save as much money as you can because they will also check if you have enough money for closing costs (a surprising fact for most first-time homebuyers).
Even if your income is decent, don't forget that debt can drastically reduce your chances of qualifying for a higher mortgage.
We've mentioned the dreaded word debt quite a few times. As mentioned, a crucial element for the lender is the debt service ratio.  
What's the debt service ratio?
There are two types of debt service ratios you should be aware of Gross Debt Service and Total Debt Service. Both determine how much you earn versus how much you spend on your debt. 
Gross Debt Service
Gross Debt Service (GDS) is the debt ratio that caters to your housing expenses, such as:
Your mortgage payment

Heating and utilities

Property taxes

Miscellaneous fees
Total Debt Service
Total Debt Service (TDS) considers your overall debt ratio. It includes:
Credit card debt

Car loan

Student loans

Line of credit

Child/spouse support payments
These two debt service ratios are what the lender examines to determine if you have the income required for a mortgage. Your total debt ratio should not be more than 40% of your gross income. Unfortunately, even if you do earn a handsome paycheck each month, the more debt you have, the more difficult it becomes to approve you for a higher amount. If you're purchasing a house with your partner, the lender will assess the gross household income as opposed to just yours. The mortgage amount you qualify for increases.
To put it in perspective…
They say that every $500 in monthly debt will take $100,000 away from your mortgage qualification amount, so it's a good idea to try and pay down some of your debt prior to determining if you have the income required for a mortgage.
Will a larger downpayment help?
Before going to a lender to determine if you have the income required for a mortgage, it's a smart idea to stow some money away for a down payment. 
Your lender doesn't want the burden of financing your entire home. It involves a high risk the lender will favour against. You need to show a vested interest in purchasing a home by having a down payment saved up.
Apart from your income, your down payment is an authoritative ingredient as well. The more down payment you put towards the house, the more judicious your lender will feel loaning you the money.
Build your credit score
Another key piece of determining if you have the income required for a mortgage is to make sure your credit score is in good standing. A good credit score puts you in a likeable spotlight. It proves your responsibility towards debt. Even if you didn't have a good history with credit in the past, it's not so difficult to rebuild a good score.
Here's a good resource on how to build your credit score for a great mortgage.
Be realistic 
Aiming for your dream house is wonderful. But you're dealing with a six-figure purchase. You should keep in mind it's equally important to set standards accordingly, too.
Being realistic and preparing for the process of purchasing a home actually puts you ahead of the game. Even if you don't plan to buy a house anytime soon, create a list of questions that would help you get ready when you eventually decide to buy one. This will help you know if you have the income required for a mortgage.
Some questions you can ask yourself are:
Can I afford a mortgage with my current income?

What neighbourhood can I afford a house in?

What's the approximate mortgage amount I can borrow right now?

What are my options for a down payment?

How fast can I clear off my other debt?
Remember, "success is where preparation and opportunity meet." 
-Bobby Unser
This is a lot to take in. It's a good idea to speak with a professional after you compile the questions you need to answer. This will help you along with your dream of becoming a homeowner!
When looking to review the income needed to get a mortgage, give us a call at Centum Home Lenders! You can give us a call at 506-854-6847 or get in touch with us here!