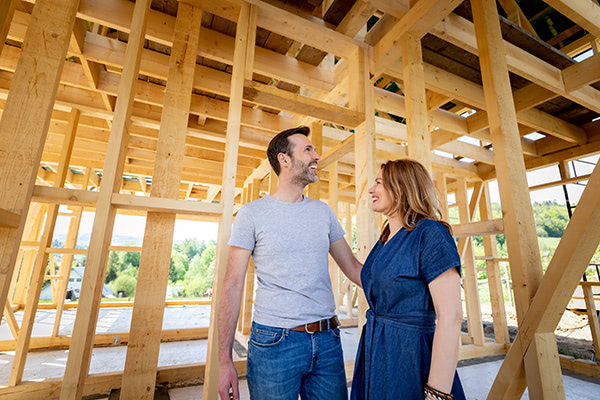 Should you build or buy your next home?
If you're planning on moving into a new home, whether it's your first or your fifth, there's a lot of decisions to make. You need to think about your down payment, your mortgage, and housing size. Maybe, you need to consider if that perfect house even exists yet. While many people choose to buy pre-built homes, building your own home is a whole other market. Of course, you will have to deal with a mortgage, property taxes, and lenders whether you choose to build or buy. However, building and buying each have their own sets of pros and cons. Which path is the right one for you?
Cost
First, how much does it cost to build a home, compared to buying one? It's usually safe to assume it will be more expensive to build a home. Of course, the exact cost depends on a variety of factors. Building a home involves paying for permits, structure work, interior work, setting up utilities, the land itself, inspections, etc. Paying for all of these individually to build a home is often more expensive than buying a pre-built home, where these costs are bundled into the value of the house.
However, new homes won't require nearly as much maintenance once they're completed. The need for repairs and replacements will be minimal, whereas pre-built homes are older and will naturally come across more issues as time goes on. 
Whether you build or buy a home, it's also important to remember that location and size play a big role in determining cost. The more desirable the area and the bigger the home, the more you can expect to pay in either case!
Timeline
How soon are you looking to move into your new home? Sometimes, home buyers need to relocate immediately for work reasons, or because new buyers are taking over their home. Other times, people have more flexibility and no strict timeline for moving. Building a home takes time, and it will be a longer process than moving into a pre-built house. Different sources have different estimates, but you can expect it to take three to seven months to build a new home from scratch. Buying a home, on the other hand, can be done in a matter of weeks or months, depending on the closing date. The decision to build or buy should be largely based on when you need the keys to your new home.
Location 
Most people have some preference for where they would like to live. However, sometimes it can be hard to find a home that meets your exact pricing and size requirements in the area you like. This is where building your own house can be a viable option. If you have a specific location in mind, but can't find a home in that area, building a home solves this issue. You can have your perfect home, in your perfect location. You can also have more flexibility with price, since it's up to you to decide how big you want your home to be. 
Customization
Is it better to build or buy a home if you want to customize it to fit your style? Of course, building a home means you can have total say and involvement in what your home will look like. From the materials of the structure to the last piece of furniture, the power is largely with you. Some people find the thought of so many decisions terrifying, while others love having these options. While you can customize pre-built homes with renovations or decorations, building a home from the ground up will truly be yours. If you love the idea of taking control over the design of your home from start to finish, building might be up your alley. If you prefer to have some decisions made for you, it might be best to stick with a pre-built house, unless you want to hire an interior designer to make all the choices!
Competition
It's no secret the market is intense, and buying a home is a tough competition when you're up against other buyers. However, this is in reference to buying pre-built homes. What about the battles for land to build a home? Fewer people want to buy empty land to build their own homes, and obviously no one can bid against you when you build a house for yourself. You can likely dodge the most hectic parts of the real estate market if you choose to buy a plot of land and build from there. It takes work to find the right spot to build, but it will allow you to avoid competition. For many people, this is incentive enough to build their own home.
Building and buying both offer certain advantages to home owners, but one thing they have in common is the work. Whether you decide to build or buy your next home, there's no doubt the process can be complex. That's why it's important to speak to a mortgage professional before you embark on your homeownership journey! Brokers provide unbiased, professional advice to help you decide what the right move is for you.
If you're looking for more information about building a home and its potential benefits, you can find that here. 
If you're thinking about buying a home, reach out today! Give us a call at Centum Home Lenders at 506-854-6847, or get in touch with us here.